Spain Wastes €680 Million on Submarines That Sink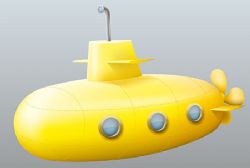 Online newspaper Quartz has revealed that Spain has spent €680 million on submarines which will not swim, but sink to the bottom of the ocean.
After spending nearly a-third of the €3 Billion budget to build the world's most advanced submarines, engineers at Navantia, the construction company contracted to built the S-80 submarine fleet, have realised the submarines are more than 100 tonnes overweight which is enough to destabilise the vessels and send them crashing to the ocean floor.
Possible solutions include slimming the vessels down or elongating them, with the latter being the most likely solution to be carried out.
The costly mistake will likely set the project back by 2 years and cost more than €9 million per additional metre to rectify the problem.
Spain's defence ministry, the government arm responsible for overseeing the project, will no doubt be embarrassed by the situation, especially as the submarines were meant to be the first entirely Spanish-designed and built.
Electric Boat, a subsidiary of US-based technology firm General Dynamics, has already evaluated the project and could be hired as a consultant to save the job.