Former Spanish PM Aznar Set for Comeback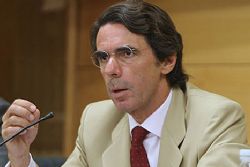 Former Spanish Prime Minster Jose Maria Aznar has said he'd be willing to comeback into front line politics if circumstances dictated.
Widely credited with overseeing Spain's boom years, Aznar ruled from 1996 to 2004 and handpicked Mariano Rajoy has his successor when he stepped down after the 2004 electoral defeat to socialist PSOE.
Declining to say if he would back Rajoy again, Aznar said on Antena 3 television "I have never hidden from my duty. I will do my duty (to) my conscience, my party and my country. Have no doubt about that," when asked his intentions.
Current PM, Mariano Rajoy, enjoys a comfortable majority in parliament and a weak opposition, however Aznar's announcement has exposed fractures within the Partido Popular ranks.
Rajoy has come under repeated criticism for his handling of the financial crisis and corruption scandals involving senior PP politicians.
Popularity for PM Rajoy and the PP has reached an all time low. As Spain's economy became a focal point of the euro zone debt crisis last year, Rajoy backtracked from campaign pledges, hiked income and consumer taxes and curbed pension payments.