Spain Bad Bank Begins Sale of Property Assets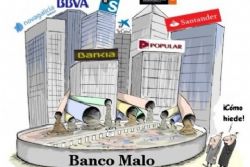 Spain's bad bank asset acquisition company Sareb has begun its 15 year demise by releasing almost €200 million of soured real assets for sale.
Sareb was created to acquire around €90 Billion of real estate assets from rescued banks in a deal to help struggling lenders balance their books, which are then sold at heavily discounted prices to investors.
The current release of assets is considered more of a market test, code named 'Project Bull', rather than a full-scale sale. The properties being sold are located in Andalucía and Valencia as well as unfinished buildings.
Sources close to the sale said bids are due by July 18. "Success on the first sale would be a signal to other investors that there's an opportunity here, but this is a big hurdle," said Lee Tyrrell-Hendry, a credit strategist at Royal Bank of Scotland Group Plc in London.
Investors are seeking good returns on investment, yet Spain's weak economic outlook will not wet their appetite, hence the reason this first sale must go very well.
Sareb has just 15 years to dispose of all the property assets it purchased, which include homes, land and incomplete building projects.