Spain Tries to Offload Engineers to Brazil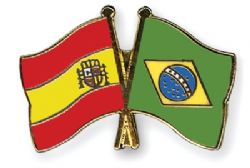 The development minister for Spain, Ana Pastor, is urging Brazil to hire many of its engineers as the Spanish economy cannot currently accommodate them.
Speaking to Brazilian journalists today, Ana Pastor said she has talked with Brazilian officials about cutting red tape that hinders the hiring of foreigners, in addition to the lengthy process for certifying university degrees amongst other problems.
Brazil is in heavy development mode ahead of the Football World Cup in 2014 and Olympics Games in 2016 which they are hosting.
The drive to promote Spanish skills abroad is an attempt to ease the unemployment situation at home, which has reached record levels, especially amongst younger generations.
Ana Pastor was accompanied by the president of the Spanish infrastructure company INECO, Pablo Vazquez, who told journalists that "in Spain we have many engineers and little employment."