Spanish regulator to probe Bankia share trading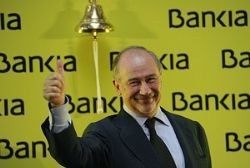 Spain's stock market regulator on Thursday said it would investigate if the abnormally high volume of trading in nationalized lender Bankia shares during the day was in breach of market rules.
Close to 50 million shares in Bankia changed hands on Thursday, or about 42 times the average daily volume over the last 3 months and 2.5 times the total number of shares in the lender.
The stock went down by 51.4% on Thursday and has lost 90% since May 6.
While this drop had been widely expected to take place before the bank receives €15.5 billion of fresh funds next week, analysts said heavy speculation on the stock was the main reason for its sharp upward and downward moves this year.