Jetset Lifestyle of Spanish Builders Crashes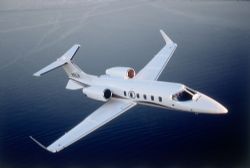 Bloomberg has reported how Spain's Super-rich have been forced to dump their personal jets as the country's financial woes continue.
During the property and construction boom years, real estate tycoons helped see the Spain's fleet of private planes grow by more than 50% to reach 137 between the years of 2004 and 2009.
With all these extra private jets in operation it is perhaps easy to see why so many developers fell in love with the idea of building so many new airports.
By the end of 2012 the number of private jets registered in Spain had fallen to 115, according to aviation data provider Flightglobal.
Many of the planes that have been sold were by builders who thought they could make money operating their own private jets for charter, according to Rafael Melero, a director at Gestair SA, Spain's biggest private jet operator.
"The Spanish private jet industry has suffered the consequences of expanding along with the real estate bubble," he said while touring the just-opened private business terminal at Madrid's Barajas Airport, which has room to park about 50 jets. "That growth will never come back."
Spain not alone
Spain isn't the only European country to see its corporate jet fleet shrink in recent years, but at 16%, its decline was the biggest among the top 10 markets - and most countries saw an increase. Corporate jets in Germany jumped to 432 at the end of last year from 397 in 2009, up 9%. In Turkey, the fleet soared 47%, to 110.
Over the same period, Italy's fleet shrank by 4%, to 137 planes, and Portugal fell by 8%, to 151 planes. Greece, a much smaller market, saw its fleet shrink by a third, to 26.
Spain "is not as robust as some other markets," Mark Wilson, the chief operating officer of NetJets Europe, which is owned by Warren Buffett's Berkshire Hathaway Inc (BRK/A)., said in an interview at the Ebace business aviation show in Geneva.
Wilson said that does not mean flying has ceased, with people still traveling for leisure and business in Spain, so the market can't be ignored.
Spanish-registered jets used by real estate tycoons have been sold in markets such as Russia at discounts of as much as 50%, according to Gestair. And as many as 10 more may be for sale, the company says.
The 'must have' fashion statement ?
"People who didn't need a jet - such as builders - ended up buying one or more," said Jose Maria Espinosa, chief executive officer of Aeromar Formula Marketing SL, a consultant in Madrid. "That was unsustainable." He predicts the business will continue to shrink and is headed to levels not seen since the 1990s. "Private aviation went out of control."
Developer Francisco Hernando, known in Spanish as el Pocero, or "the well digger," is emblematic of the trend. As Spain's economy picked up, he bought 2 Bombardier Inc. (BBD/B) Learjets to ferry him to Spanish cities such as La Coruna, less than 600 km northwest of his Madrid headquarters, and his vacation home on the Mediterranean island of Mallorca, according to Javier Barriga, general manager of Aviacion & Negocio SL, a consultant in Malaga, Spain.
Hernando later added a Bombardier (BBD/B) Challenger CL-604, capable of carrying about 10 people in comfort, and a Global Express XRS, which can fly non-stop from Madrid to Tokyo, with an eye toward building up a charter business. "It was the worst timing," Barriga said.
Hernando spent almost €80 Million on the 4 jets, but has since sold them for about 25% less than what he paid, according to Barriga.
A good business deal then, Sr Hernando ?
Hernando didn't respond to calls and emails to his company Onde 2000.
Madrid's new private jet terminal has been operated since February by Gestair and Multiservicios Aeroportuarios SA, which invested more than €2 million, Gestair says. The new terminal, which was expected to see about 15,000 flights a year, may get less than half that, according to Aeromar. Gestair says traffic at the terminal is in line with expectations.
At least 6 small private jet operators, including the company set up by Hernando, have shut down since the real estate and economic crisis started in 2008, and many of the remaining jets in Spain aren't being used, according to Gestair. Aircraft in storage in Spain last year reached the highest level since 2004, Flightglobal reports.
"The crisis has forced many companies and individuals to step back and think whether they actually need a private jet," said Pablo Foncillas, a lecturer at IESE Business School in Barcelona. "Those who were just sporadic users are now gone."
One of the questions that remains must be this : If the greed, ambition and opulence of so many Spanish builders resulted in them needing a bailout by the Cajas, and in turn, so many Cajas needed bailing out by the state, then why should tax-paying Joe public yet again foot the bill for the incompetence and corruption of the few ?
Recommended Reading
• Second offer to buy Castellon Airport "not economically viable
• Corvera Airport falls out of love with Murcia Government
• An Idiots's Guide to Airports in Spain
• Bloomberg : Spain's Private Jets Disappearing as Tycoons cut Mallorca Flights