Naked Bullfighting Protest in Barcelona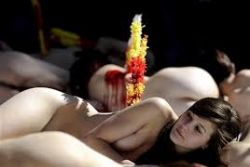 A group of activisits took to the streets of Barcelona yesterday inprotest over the draft law currently being discussed in Parliament, which seeks to protect and recognise Bullfighting as a Sport, and being important to the cultural heritage of Spain.
The all-female protest group stripped to their underwear and smeared themselves in fake blood in representation of the torture and suffering of the Bulls, whilst gathering signitures for a petition.
Just last week the Spokesman for Spain's Green Party claimed that the EU subsidised Bullfighting by means of indirect funding via their Common Agricultural Policy, from which Spain benefits to the tune of around 5 Million Euros per year.
Recommended Reading
• EU Funds Bullfighting in Spain Claim
•
Where's the Beef ?
•
Youtube Pulls Spanish Bullfighting Clips
•
13'000 Bulls Killed in Spain for Sport each year