Amnesty International Slams Spain's Human Rights Record .... Again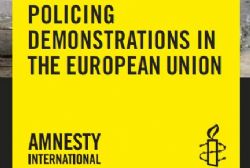 Police brutality, forced evictions, a lack of rights for illegal immigrants, and poverty are just some of a number of issues identified during 2012 as being a cause of concern to Amnesty International.
All of these can in part be explained as a consequence of the prolonged financial crisis in Spain, manifested in high levels of unemployment and an increasing number of protests against various austerity measures, which have in turn resulted in accusations of heavy-handed Policing.
As such, Amnesty International have identified then use of unnecessary force by the Police at public demonstrations as being of the most concern, and are reportedly working with various Police authorities to offer "Moral and Human Rights" guidance with regards to the training of new recruits.
The Charity has also criticised the authorities, as it is difficult for any Police Officer to be reported and brought to task for acting inappropriately due to them not wearing identification when dressed in riot gear.
However, the Spanish Courts were successful in charging some 22 Riot Officer Officers on charges of grievous bodily harm following their reaction in Policing the Barcelona protests of 2012, which resulted in a number of serious injuries to members of the public.
Amnesty also investigated a number of further human rights violations, such the denial of free access to health care for illegal immigrants.
Other violations concern forced property evictions, where the European Court of Justice ruled against Spanish law to give greater decision making authority to the Judges.
Recommended Reading
• Spain bans photographing of Police Officers on duty
•
Spanish Court convicts 22 Police Officers
•
Complaints of Spanish Gov't abuses investigated by UN