Spain to award Residency to buyers of luxury property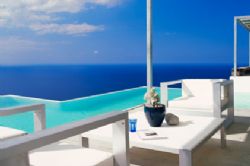 Spain today approved a plan to grant residency permits to foreigners who buy high-end homes, a step meant to breathe life into the country's troubled housing market.
The measure, one of several announced Friday to encourage entrepreneurship, will award residency cards to those who spend a minimum of €500,000 in Spanish property, or invest at least €2 million in sovereign debt. Other measures would include the granting of residency to highly-skilled foreign professionals and foreign investors who would create jobs and ease Spain's 27% unemployment rate. Following parliamentary approval, many of the measures are expected to take effect by early next year.
"We're doing what other countries are doing," Deputy PM Soraya Saenz de Santamaria said, adding that Chile, Ireland and others have similar immigration inducements. "It's a system that has become widespread as an appealing tool to attract investments."
However some real estate insiders have questioned whether this would boost demand for the country's unsold properties, which according to the INE saw 13% of Spain's 25.2 Million properties standing empty in 2011.
The Ministry of Public Works has also reported how property prices have slumped 30% since 2008, with sales in Q1 of 2013 falling to 54,500 compared to 239,000 in the same period in 2006.
However in comparison Spain looks set to attract record numbers of foreign visitors in 2013, with 14 Million touists between January and May.
Spain is not the only country to adopt similar incentives to attract foreigners. The USA offers a Green-Card to any foreigner who invests $500,000 in a qualified business on the condition that 10 American Citizens are employed by the enterprise.
The USA benefitted from this program by some $1.8 billion last year, issuing a total of 7'641 Green Cards - 80% of which went to Chinese Nationals.
Angel Serrano, Director of real estate consultancy Aguirre Newman in Spain, estimated that less than 5% of the country's 700,000 new, unsold homes could exceed the €500,000 threshold.
The average price of bank-repossessed homes is around €130,000, said Nicolas Llari de Sangenis, director of banking assets for property services agency Savills Plc. "With a half million euros [threshold], there won't be a significant impact in terms of stock absorption," Mr. Llari de Sangenis said.
The lack of foreign buyers is also worrying the market - representing just 1.5% of transactions in Q1, according to the Ministy of Public Works.
With over 50% of Spain's vacant proprties being in coastal areas, Agents report how Chinese and Russian citizens are showing strong interest in buying in Spain, with Marbella in particular being popular with the high-end Russian market.