New Arrival at San Javier - But what about Corvera ?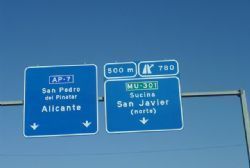 AENA yesterday reported the first arrival of a new route to Murcia's San Javier Airport, adding further fuel to speculation that the facility has no imminent plans to close in favour of Corvera Airport.
The lunchtime arrival flew 148 passengers from Glasgow via Jet2, where they were greeted by representatives of the Airport and the local tourism industry, and presented with a promotional brochure of the Mar Menor and surrounding areas.
The new flight to Glasgow, which will operate each Monday and Friday, brings the total number of flight between the San Javier and the UK to 15 : Birmingham, Blackpool, Bournemouth, Bristol, Edinburgh, East Midlands, Glasgow International, Glasgow-Prestwick, Leeds, London-Gatwick, London-Luton, London-Stansted, Liverpool, Manchester and Newcastle.
Flights are also operated to a further 9 other destinations: 4 in Norway (Bergen, Oslo, Stavanger and Trondheim), 2 in Ireland (Dublin and Belfast) and the Brussels-Charleroi airport, Prague and Madrid-Barajas.
A total of 7 Airlines are currently operating from the Airport : Ryanair, Jet2.com, Easyjet, JetairFly, Air Nostrum, Norwegian and Quality Tours.
The reported growth of San Javier Airport contrasts greatly with recent news from the Murcia regional government and Aeromur - the Concession holder of Corvera Airport - and can not bode well for those holding any faith in the speedy and smooth opening of the new facility.
Recommended Reading
• Corvera Airport "Will not cost Murcia one Euro"
•
Corvera Airport falls out of love with Corvera Airport
•
San Javier v Corvera : Confusion Continues
•
Murcia's San Javier Airport appoints new boss