Spain Consumer Association Slams Internet Providers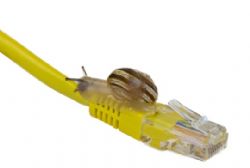 Spanish Consumer Association FACUA has launched their campaign against 'Internet Connection Irregularities', where they have laid down a total of 15 points where they claim abuses by telecoms providers are most prevalent.
A number of Spanish actors – including Adriŕ Collado, Beatriz Rico and Jaime Pujol have joined more than 100 other celebrities to support the campaign through video clips, under the slogan "Lucha contra los abusos " (fight against abuses).
The association, which is calling for closer regulation of the industry, has highlighted the 15 abuses as follows :
1.) Lower than advertised internet connection speeds.
2.) Exorbitant prices.
3.) Prices not matching the rates advertised.
4.) Bills with items that users have not signed up for.
5.) Cuts to frequent services.
6.) Refusal to pay compensation for connection cuts.
7.) 902 numbers that make money at the expense of complaints from users.
8.) Reduced connections for particular services.
9.) Failure to respond to complaints and offer solutions.
10.) Excessive rates for mobile connections when travelling abroad.
11.) Ludicrous charges when the limit for mobile connections is exceeded.
12.) Charging for services before the consumer has received the router.
13.) Routers that are blocked when sold so that the customer cannot switch to another provider.
14.) Penalties for cancelling a subscription that do not correspond to losses caused to the company.
15.) Excessive fines for a delay in paying a bill.
As yet, none of the major providers have issued a formal response to FACUA.
• FACUA : FACUA denounces 15 main abuses committed by companies with their Internet connections.