Spain's Supreme Court revokes planning permission for Marina d'Or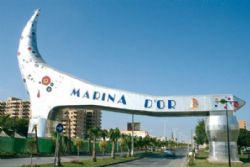 Spain's High Court of Justice has nullified the 18 Million Square Meter Marina d'Or Golf development, Valencia, on a technicality.
The formal tender for construction was not published in the Official Journal of the European Communities - a procedure which the Supreme Court considered "indispensable" – and which could mean that the project is never finalised.
European law states that a project of a value greater than 6 Million Euros must formally invite tenders, and in not doing so any subsequent contract awarded is null and void, and as such has revoked the planning permission originally granted for the project in 2010.
The 18 Million Sq Mt development located between Oropesa and Cabanes in Castellon, was projected to include around 35'000 properties, Golf Courses and Hotels.
Marina d'Or has been troubled from its inception, with company President Jesus Ger, struggling from the outset to secure the required investment to complete the development. Ger even tried to lure American Investor Sheldon Alderson to consider building his Eurovegas concept at the site, but was unsuccessful.
The nullification of the planning permission now effectively means that one of the potential key user of nearby Castellon Airport may have been taken away – raising further questions over the viability of the airport aswell.
Marina d'Or have 10 days in which to appeal the decision.