Corvera Airport Viability Comments "Grotesque"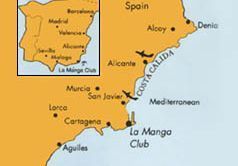 The Infrastructure Secretary for the PSOE in Murcia has openly condemned the criticism of AENA's appraisal of the viability of Covera Airport, made by the spokesman for the regional government.
María José Lajarín referred to the comments made by Jose Ballesta as being "grotesque", and questioned why the data on which each party had based their conclusions had not been made publically available.
Lajarín was also critical of the time being taken to bring the opening of Corvera Airport to a conclusion, noting that the terms of the contract seem to be "continually changing".
Recommended Reading
• New arrival at San Javier - But what about Corvera?
•
Murcia Gov't falls out of love with Corvera Airport
•
San Javier v Corvera : Confusion Continues
•
AENA report on Corvera Airport viability slammed