Spain's Bankia set to tumble anew despite cash injection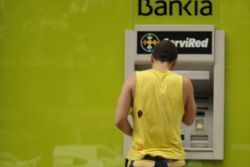 Shares in state-owned lender Bankia could slide another 30% despite a multi-billion-euro cash injection, analysts say, with little hope of a quick recovery as tough business conditions and a challenging restructuring plan weigh.
More than 11 billion shares issued as part of a €15.5-billion recapitalisation of the Spanish bank are to start trading on Tuesday at 0700 GMT in what was meant to be a new beginning after a €24-billion bailout last year.
But analysts unanimously expect the share price to keep falling well below the initial trading price of €0.6, the €1.35 at which they were issued and their theoretical value of €1.
Analysts believe they will settle at a lower price ranging from €0.45 to €0.6.
Following the cash injection, the Spanish state owns 68.4% of Bankia, with the rest held by former holders of preference shares and hybrid debt, often small savers who were mis-sold these complex financial instruments and were forced to swap them at a discount for ordinary shares.
Most of them are now expected to sell these new shares on Tuesday to try to recoup part of their money, adding downward pressure to a stock which already lost more than 50% last week when institutional investors triggered a mass sell-off as they received their shares.
Further pressure will come from a recession which economists expect to last at least another 2 quarters.
The bank also needs to pay back public aid and cheap ECB loans received last year and faces a possible new round of provisioning to cover losses on the refinanced loans portfolios. Prospects for the bank's future are also clouded by uncertainty over government plans for handling state-owned banks and potential risks from arbitration over the mis-selling of preference shares and hybrid debt which it could have to settle in cash.
Bankia chairman Jose Ignacio Goirigolzarri remains positive.
He said last week said the stock price should eventually settle at around €0.7 to €0.8, a valuation in line with those of Spanish peers which all have a share price of between 0.7 to 0.8 times their book value.
Bankia should benefit from the thorough clean-up of its property business and an aggressive strategy to sell its non-core assets.
Analysts also believe that if the stock was to fall below a level of €0.5 to €0.45 per share, investors could be lured by potentially juicy capital gains.