AENA Ready to Take Control of Corvera Airport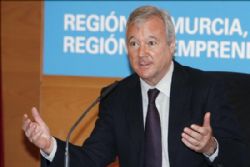 Murica's Regional President Ramón Luis Valcárcel has said that a number of meetings have taken place with AENA to take control of Corvera Airport.
Valcárcel has confirmed that AENA are "totally committed" to take full control of Corvera Airport and hopes this to happen by December with commercial flights beginning in summer 2014.
However, Valcárcel insisted there had been no contact with Aeromur, the troubled concessionary behind the privately owned and financed project.
Sacyr, the construction stakeholder in the airport borrowed extensively from banks and other financial institutions to complete the project which required a €200 million guarantee from the regional government of Murcia and increasing it's stake to 60% of the concession.
Intended to operate alongside AENA controlled San Javier Airport, the idea was floated to close San Javier to commercial traffic, hand over the airport to the military and transfer its commercial operations to Corvera, with AENA controlling operations under the administration of the concessionary.
However, since AENA had no need to move its operations to Corvera, Aeromur would have to compensate AENA for its recent investment in San Javier Airport of around €93 million.
Aeromur are unable to compensate AENA nor can it afford to open the airport which has forced the regional government to rescind their contract to operate Corvera Airport.
Aeromur has blamed delays on AENA for failing to suitably negotiate flight paths and operational transfers from San Javier in a timely fashion. AENA only began test flights into Corvera Airport after the initial opening deadlines had passed which some have speculated were by design to assume full control of the airport.
It is still unclear whether the airport will become a completely state owned airport, however it is thought that buyers are being sought for the airport.
Expats and holiday makers in the area are likely to bear the brunt of the confusion surrounding both airports, especially as San Javier is adding new routes to its schedules and rising speculation that San Javier will never close commercially.