1 Year Anniversary of work commencing at Paramount Murcia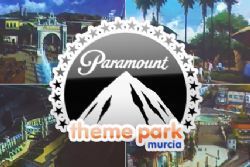 On the 31st of May 2012 Tumbit somewhat cynically reported how work had commenced at for the development of the Paramount Pictures theme park at Alhama de Murcia.
Although the move was transparently nothing more than a ceremonial act and photo opportunity for the various dignitaries to justify the project and appeal to potential and much-needed investors, it was perhaps hoped that something more than one token stone would have been laid over the course of the following 12 months.
A total absence of any form of construction work has also been accompanied by a revision of the original footprint due to being unable to purchase the originally intended quantity of land, and a further revision due to environmental reasons.
However, despite the loss of 12 months in construction time, Jesus Samper - the President of Proyectos Emblemáticos Murcianos SA (Premursa) – maintains that the theme park will still be open for business for the summer season of 2015.
Recommended Reading
• Construction begins on Paramount theme park Murcia
•
Paramount Murcia work will commence in July
•
Paramount Murcia WILL be open by Summer 2015
•
Spain : 6 Months of Lies and Bullshit