Supreme Court Rejects Appeal by Former CAM Boss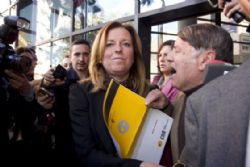 The Supreme court of Spain has rejected an appeal by former CAM boss María Dolores Amorós on the grounds her application was inadmissible.
María Dolores Amorós was fired as General Director at Caja de Ahorros del Mediterráneo in a letter from the Bank of Spain citing breaches of contract, irregularities with the 2010 accounts and pension awards to herself and other high profile executives during her tenure.
CAM was rescued from the brink of collapse in 2011 by the Bank of Spain and placed under FROB administration, who subsequently sold it for €1 to Banco Sabadell.
Having being fired by the Bank of Spain, María Dolores Amorós launched a €10 million legal dispute for loss of earnings, double compensation for dismissal and in particular a pension worth almost €370,000 per year.
Her case was ultimately dismissed and subsequent appeals failed to overturn the original ruling by the labour court in Alicante.
Drawing parallels with similar cases where executives had been removed from their roles in banking institutions, lawyers for Amorós argued there were similarities and should therefore reconsider the original judgement.
However, magistrates dismissed these arguments because whilst there were similarities, their removal was based on redundancy rather than dismissal for poor performance.