Bank of Spain Recommends Scrapping Minimum Wage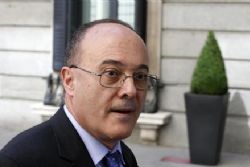 Bank of Spain Governor Luis Maria Linde has called for Spain's minimum wage to be temporarily cut as part of a rage of measures to reduce unemployment in Spain.
The minimum wage in Spain is currently €645 per month over 14 months or €752 over 12 months, which calculates to approximately €4.25 per hour – Source Wikipedia Minimum Wages
The recommendations by the Governor in his first annual report since taking office in 2012, also talks about greater flexibility in the labour markets and preventing the minimum wage from becoming a constraint on particular groups of workers from being employed.
Linde has also made recommendations to increase the retirement age from 65 to 67 and re-working the formula on how pensions are calculated. Pension payments are currently calculated on the last 15 years of contributions a person makes during their working life, however Linde believes this should be based on the last 25 years instead.
Exactly how this might affect expats who are about to accumulate 15 years of employment and become eligible for a state pension is yet to be seen.
Out of Touch
The remarks from the Governor will no doubt infuriate the hard pressed populous and further highlights how out of touch top executives and politicians are with reality.
Throughout the financial crisis, the historic and cultural beauty of Spain has been overshadowed by the rhetoric of austerity and reform combined with the rising cost of living and high energy prices.
Unfortunately, it appears there is no appetite to tackle the real issues at hand yet there is strong emphasis on reducing the cost of labour, ultimately meaning lowering already low wages.
The country is no longer living in pre-1990 economic conditions, however average salaries have remained well below inflation whilst top executives and elected individuals have basked in bonus' and financial rewards for failure.
Spain has one of the most complicated tax systems in the world and a deep culture of "Black Money" (cash in hand) jobs which studies have shown are directly related to each other. On the whole, most individuals and businesses are happy to pay tax when it's easy to understand, reasonable and fair.
Additionally, Spain has a long history of nepotism, whereby jobs are given to family and friends instead of qualified and experienced people more than ideal for the roles. Government offices across the country employ staff this way and leave many career minded individuals out in the cold.
Likewise, a string of high profile corruption cases of late including politicians, celebrities and top executives have fueled a social and political awakening by the public demanding transparency and realistic solutions to economic problems instead of being made to pay for the mistakes of others.
The legal system is beyond the reach of most individuals and has been criticised for being interfered with by politicians eager to exert their own agenda on the outcomes of cases which often take many years to resolve and cost the taxpayers millions.
With more pressing issues to be resolved first, it is hoped that Linde's recommendations fall on deaf ears and instead he focus' more on inflation, interest rates and taxation issues rather than attempting to oppress the public further who have absolutely no appetite for more cuts to their wage packets.