Spain to consider EU tax-hike suggestions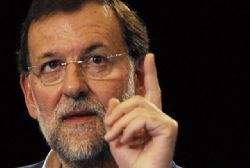 PM Mariano Rajoy today said his administration has no plans to raise value-added tax rates but will "explore" recommendations by the European Commission, which has suggested shifting goods and services currently in the reduced category to the standard one.
The conservative PP government raised the standard rate of IVA from 16 to 18% and the reduced rate from 8 to 10% in September of last year. Brussels has also said that Spain has room to increase the overall tax burden and has recommended increasing energy and environmental taxes. The Commission wants the Rajoy administration to present plans for an overhaul of its fiscal system by March of next year.
The government has also raised personal and corporate taxes but has pledged no new tax hikes. Those "temporary" increases will remain in place until 2015 as part of efforts to reduce the public deficit.
Brussels has given Spain two more years to bring its public deficit back within the EU ceiling of 3% of GDP. In exchange, it wants the Rajoy administration to speed up the implementation of structural reforms it has pledged. The overspend target for this year was set at 6.5% of GDP, compared with an earlier commitment of 4.5% in recognition of the fact Spain remains mired in its 2nd recession in 4 years, a factor that is depressing tax collection.