Spain's Vueling to surpass Iberia in coming years : IAG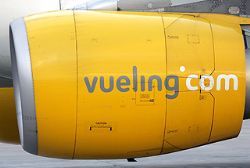 Spanish airline Vueling will be bigger than loss-making flag carrier Iberia within 3 - 5 years, International Airlines Group Chief Executive Willie Walsh was quoted on Wednesday as saying.
International Airlines Group (IAG), the parent company of British Airways and Iberia, took control of the latter's low cost domestic competitor Vueling in April. It is in the process of laying off thousands of workers at Iberia, which has suffered because of a recession in Spain that has left 27% of the workforce out of work.
"In short and medium-haul routes it will definitely be in 5 years and possibly even before, in 3 years," newspaper Expansion quoted Walsh as saying.
According to figures from Spain's airport authority AENA, Vueling transported 5.7 million passengers in the first 4 months of the year, while Iberia and Iberia Express combined carried 5.6 million.
In April IAG acquired control of Vueling for €123.5 million to stem financial losses in Spain. IAG already held a 45.85% stake in the Barcelona- based budget airline, increasing to 90.51% after the majority of remaining investors accepted its takeover offer.