Congress to vote on PP and PSOE pact for EU summit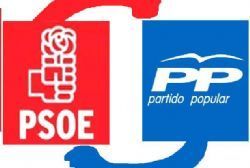 Congress will vote in the coming weeks on a pact between the PSOE Opposition and the Partido Popular government to support the administration's goal to push European leaders to come up with a stimulus package, including help to combat youth employment, during the upcoming summit this month in Brussels.
PM Mariano Rajoy and opposition Socialist leader Alfredo Rubalcaba will negotiate the document in the coming days, according to sources from both sides. Last week, Rubalcaba announced that he spoke to Rajoy to offer the Socialists' support in forming a common front to lobby European leaders for growth measures at the 2-day summit, which begins on June 27.
The leaders will discuss proposals to stimulate growth in troubled member states, including aid to small- and medium-size businesses.
Both the PP and the Socialists are confident that the Catalan CiU nationalist bloc and Basque Nationalist Party (PNV) will also sign on.
Talks are still being held with the Union, Progress and Democracy (UPyD) party and Izquierda Plural coalition, but sources predict that the two groups will also agree to the pact. Rubalcaba has been meeting with the other leaders of the opposition to get their input on what should be included in the document.
Rajoy told the Senate on Tuesday that he was willing to sign on to pact with the opposition.
When asked, Alfonso Alonso, the PP spokesman in Congress, would not be drawn on what the terms of the agreement would be.