Spanish police get serious on crime using Twitter jokes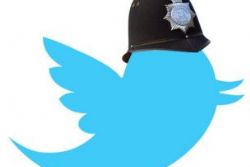 Spain's national police force is using social network Twitter to track down criminals through jokey messages to citizens that has led to 300 arrests on drug charges in the past year and become a model for other forces worldwide.
The account, @policia, is on track to reach 500,000 followers this weekend and is the second biggest of any law enforcement agency after the U.S. Federal Bureau of Investigation (FBI).
Officers in Madrid handle 1,200 messages on the account in an average day and answer queries for 17 hours a day, giving it greater reach than any public or private Spanish institution.
Carlos Fernandez Guerra, a former journalist and the only member of the team who is not a police officer, writes all the account's tweets which can be retweeted up to 10,000 times and shrugs off criticism that the tone is too jokey.
"We use language that is attention-grabbing, related to things that are being tweeted at the moment," Fernandez, 39, explained in his office on the third floor of a police station in central Madrid.
Fernandez is behind messages such as: "Ah, a few beers on a terrace laughing with your girlfriends, watching the hot boys go past ;) Don't take your eye off your handbag and your phone."
He readily admits that not everyone in the police likes using humorous tweets to warn citizens about email and phone scams and to discourage teenagers from "sexting", or sending nude photos to friends, that can be uploaded online and are officially classed as child pornography.
"Turn on the passion ... SWITCH OFF the camera. NO TO SEXTING!", one tweet advised.
"Some people like it, some people don't. There are some that want us to be more formal," Fernandez said. "We are focused on the average citizen and what they will like."
He set up the account in 2009, using it to post press releases, before deciding to expand the reach beyond media professionals. Now police forces in Latin America are using @policia as a model to reach citizens, Fernandez said.
While the police do not want people using Twitter to report emergencies, they do offer contact details to spot criminal activity, focused especially on drug and sex offences.
Fernandez said in the past year over 300 people have been arrested on drugs charges thanks to tip-offs, one criminal handed himself in after the police posted a message about him, and the force tracked down a British fugitive after 5,000 people retweeted that the police were looking for him.
Parodying the police account would be impossible, Fernandez said, especially when they themselves upload content like a video of police driving around Madrid to Bob Marley singing:
"Bad boy, bad boy, whatcha gonna do? Whatcha gonna do when they come for you?"
"People couldn't believe it. It's quite a common question, 'Is this a fake account?'"