Spain acts to modernise regional savings banks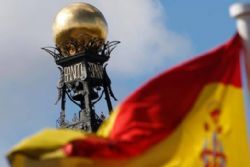 Spain put forward new measures on Friday to restrict the operations of what is left of its unlisted regional savings banks, the latest step to modernise a banking system that received billions of euros in a European bail-out last year.
The government of PM Mariano Rajoy sent a bill to parliament that will force savings banks that own stakes in larger lenders to become foundations, operating under greater scrutiny from the central bank.
The foundations will have to set aside more capital reserves to protect against losses, and political influence on their boards will be restricted.
Spain is adopting the new rules under conditions it agreed with the EU last year when it received aid of up to €100 billion for its ailing bank sector. So far it has tapped €41.5 billion from that credit line.
The bill is the latest piece in a massive overhaul of Spain's banking system since a property-fuelled credit bubble popped in 2008. The sector has shrunk to 14 banks from more than 40 within the past 5 years.
The latest changes will affect La Caixa, which controls 60% of Spain's 3rd-largest bank CaixaBank and the savings banks that control Unicaja, in Andalusia, and Kutxabank of the Basque Country.
Caixabank chairman Isidro Faine, who also chairs La Caixa, will have to give up one of those two roles under the new rules, which prohibit one person from running both the foundation and the bank it owns. La Caixa declined to comment on the proposals.
2014 DEADLINE
Rajoy's Partido Popular has an absolute majority in parliament, which is expected to pass the bill into law before the end of the year. Savings banks will have until the end of 2014 to comply.
Savings banks, known as cajas, date from the 18th century and were originally set up to lend to farmers to help tide them through poor harvests. They were small regional lenders with a remit to donate some of their profits to charitable causes.
But their role changed during Spain's boom years when many lent unwisely to real estate developers and were used by local politicians to fund grandiose projects like hosting international sports events.
In the aftermath of the bubble, most of the cajas have been swallowed up by banks listed on Spain's stock exchange.
The foundations that have stakes in lenders will continue to operate charities, as they have done traditionally, using the dividends they receive out of bank profit.
The changes will leave only two traditional cajas standing - that is, savings banks that operate in only one of Spain's 17 autonomous regions and lend only to individuals and small businesses. Those are Valencia-based Ontinyent and Pollensa on the island of Mallorca.