AVE to arrive in Alicante mid-June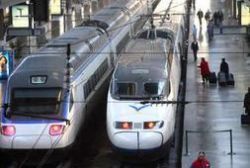 Spain's State Railway Operator RENFE has announced how the arrival of the AVE high speed network in Alicante on June 18th will enable residents to travel to the capital in around 2 hours and 15 minutes.
The nearest AVE Mainline station to the city of Alicante will be Villena, which is scheduled to be remodelled, according to a statement made yesterday by the Ministry of Development.
However, local politicians have asked the question as to why Villena was chosen in preference over Yecla, which would have better infrastructure in place to connect AVE passengers to El Altet Airport and the Motorway to Madrid.
Although RENFE have been reluctant to forecast and predicted passenger numbers, it is known that around 500'000 people travel between the Murcia / Alicante area and Madrid by rail each year, and therefore a given percentage likely to switch from to the AVE service.
The Ministry of Public Works did not mention when the AVE network would be extended to Murcia - it can therefore only be assumed that the 2014 date given previously still stands ?