CEOs in Spain Feel Crisis on €788 Per Hour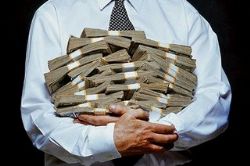 Research has revealed how CEOs in Spain are immune to the global economic crisis at home as they pocket €788 per hour.
The Federation of European Employers, FedEE, released new data today which show pre-bonus salaries of Spain's top executives are amongst the highest paid in Europe ranking second across the continent. Surprisingly, Italy faired the best with executives netting as much as €1,144 per hour.
In comparison, UK top execs earned a maximum of just €592 per hour and France was at the bottom of the list where top executives earned a measly €545 per hour on average.
The study, which looked at median pay figures for 32 job positions in 47 countries and territories, does not take into account bonus, commissions or share options and will ultimately mean the final pay figures are significantly higher.
Spanish executive pay contrasts heavily with others earners. The lowest occupational groups in Spain earn a whopping €3.85 per hour. Both Spain and Italy are economies in crisis and are holding up any potential European recovery, yet austerity and cutbacks have not yet reached the boardroom for executives pay.
Spain has the highest level of unemployment, especially amongst the younger generations, rising home repossessions and declining social services than any other European country, which with the release of this data will no doubt infuriate the public and pile on further pressure for struggling PM Mariano Rajoy to implement change at the top levels of power rather than just at the bottom.
A similar study in 2011 by Hostettler, Kramarsch & Partner showed executive pay including all extras and bonuses were the highest in Germany, UK and Switzerland.