Former BoE Boss Blames CAM Collapse on Managers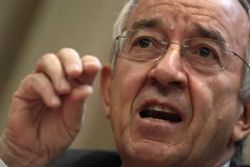 The Former Bank of Spain Governor, Miguel Angel Fernandez Ordonez, has blamed the collapse of Caja de Ahorros del Mediterraneo on its managers.
Appearing in front of a committee investigating the collapse of CAM and subsequent Bank of Spain intervention, Ordonez said the failed institution employed managers who were "less professional and prudent" than others.
He also stressed the involvement of the Autonomous Region of Valencia by saying "there was more to look at what they have done to realize who was competent and observe how communities have acted". Cajas in other regions "have done better" in the process of bank restructuring he said.
In Spain, regional governments have the power to veto the appointment of top executives in the case of competition and competence.
However, the economic crisis and failure of CAM revealed the relationship between the regional government of Valencia and CAM was too cosy and allegations of corruption came to light.
CAM pilled millions into ambitious, yet unnecessary and hugely expensive construction projects at the behest of the Valencian Regional Government, at the time headed by the hugely controversial Fransico Camps, who himself is frequently subject to investigations over allegations of corruption.
Ordonez pointed out the real estate bubble, financial regulation, supervision by the Bank of Spain and the governance problems of the "caja" also played a role in the fall of CAM, but did not explain its failure since the conditions were the same for all Spanish institutions. Other "cajas" in other regions "have done better" under the same conditions he said.
Fernandez Ordonez refused to appear in front of the committee in April 2012, like other managers and ex-directors of the Bank of Spain and the Fund for Orderly Bank Restructuring (FROB), claiming that the commission's actions are subject to the political control of the General Courts, but not within the scope of the commission's research into regional parliaments.