Street Thermometers Wrong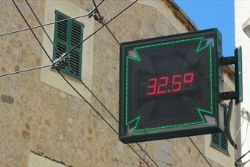 An interesting online article has revealed that street thermometers in Spain found in cities, town squares and outside pharmacies are actually wrong.
The article released by ABC has found that when temperatures are at their highest, the public thermometers may in fact be as much as 10 degrees over the actual air temperature in the vicinity.
Spanish met office, AEMET, provided temperature data which proved the highest temperatures recorded in Spain were hugely different to the public display temperature readings.
The types of public display thermometers vary greatly, however their problems are the same and stem mainly from poor design, incorrect positioning in direct sunlight and unsuitable materials used to build them.
Materials used are often dark which absorb more of the suns radiation than a lighter surface would, which when combined with poor internal ventilation and proximity to hot surfaces, especially from the pavement, the temperature readings are often incorrect claimed ABC.
Amongst many suggestions to correct the inaccurate temperature readings, one suggestion was to provide temperature readings from approved local weather stations.