Barcelona Messi under Investigation for Tax Fraud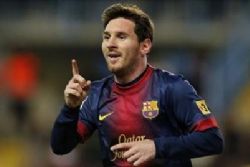 Barcelona forward and FIFA World Player of the Year Lionel Messi is being investigated for tax fraud by the Spanish authorities.
Along with his father, the Argentinean superstar is being investigated in relation to irregularities with tax returns between 2007 and 2009, which is believed to be more than €4 MILLION in unpaid tax.
Tax officials have already filed a court complaint in his Barcelona home district of Gava where judges must accept the complaint before anyone can be charged.
According to Spanish news agency EFE, if convicted, Messi could face up to 6 years in prison and a large fine.
Under the complaint, Messi and his father are accused of three counts of defrauding the state of tax contributions in relation to the use of his image.
Using companies based in Uruguay and Belize, they would sell the rights to use his image avoiding taxation by the Spanish authorities on the income.
Messi expressed shock at the revelations claiming he only found out about the investigation through the Spanish media.
Eager to save face, Messi also took to Facebook where he posted a message stating "We have never committed any infringement. We have always fulfilled all our tax obligations, following the advices of our tax consultants who will take care of clarifying this situation."
It's not unusual for big earners, especially those in the sporting arena to use offshore companies to filter earnings in an attempt to avoid paying huge sums of tax. Most schemes are completely legal and backed by lawyers and tax specialists.
Likewise, you don't necessarily have to be a big earner to enter into legal tax related schemes and save yourself money. If you own property in Spain, Wincham offer a great package whereby your property is exempt from IHT by the Spanish authorities. Click here to find out more...