Spain Seeks Bailout Fund Revisions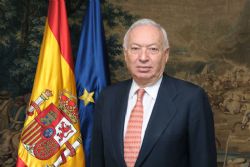 Spain is seeking to revise the limits on the Eurozone bailout fund setup to help struggling European nations.
Speaking ahead of the European Foreign Ministers meeting due to be hosted by Spain in Palma de Mallorca on July 19 and 20, Spain's Foreign Minister Jose Manuel Garcia-Margallo said he would push to raise the 500 billion euro limit set by the European Stability Mechanism (ESM).
Spain, France and Italy along with other European states tried to raise the limits before, but Germany among others blocked the move.
"It is not possible to have a backstop that has a limited firepower, which needs unanimity (to be used) and which is so rigid," Garcia-Margallo told journalists at a joint press conference with his French counterpart Laurent Fabius.
Germany is currently locked in a legal standoff over the ESM and specifically the European Central Bank's bond buying scheme, which they believe violates German law.
The ECB bond buying program has as yet not been used, but was originally setup to buy government bonds from struggling European nations where their bonds on the open market were unsustainably too expensive.
In 2012, the Spanish government were faced with the reality of an imminent Ireland, Greece and Portugal style Eurozone bailout as its bonds surpassed a record high 7% yield and signalled a rescue was on the cards.
However, the very fact the ECB bond buying program was announced immediately drove down the cost of borrowing to more sustainable levels for the government and staved off a bailout style rescue for the nation.
Garcia-Margallo said "By definition a backstop must have an unlimited firepower and capacity to act quickly, which is currently not the case."
Speaking about growth, Garcia-Margallo said to in order to boost growth Europe needs to move quickly to full banking union and the ECB to revise its rules by accepting securitised loans for small and medium sized companies.