RENFE Sells Over 15,000 AVE Alicante Tickets in One Day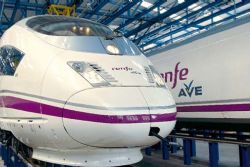 Spanish state train company RENFE has reportedly sold more than 15,000 tickets in its first day of trading for the new AVE link to Alicante from Madrid.
Of the tickets sold, 78% were bought online of which 80% were for travel from Madrid's Atocha rail network hub. The remaining tickets were bought via travel agencies, station purchases and call centre operations.
Ticket prices vary depending on day and time of travel and seating requirements, but typically a return journey to Madrid from Alicante starts around €70 - €80 and takes just over 2˝ hours.
Spain has often been criticised by travelers as rail links across Spain only connect passengers to the capital and take vast amounts of time to reach the destination. However, this new rail link is the first of many planned routes which connect major cities with each other quicker.
The AVE project is extremely ambitious, however has suffered throughout the economic crisis resulting in many parts of the proposed network being shelved or cancelled outright.
The south coast of Spain from Murcia, through Anadalucia is still not reachable by train. Currently a journey from Murcia to Andalucia means a trip to the capital, a change of train then a long journey through the heart of Spain to reach Andalucia which would take more or less 10 hours to achieve. However, the AVE project aims to address this in the near future with most of the new rail infrastructure already complete.
The Development Ministry forecasts are optimistic and believe the Alicante to Madrid route will continue to become more and more popular with travellers.
RENFE expect tickets sales to remain similar to Monday for the remainder of this week.