Teachers Protest Outside Corvera Airport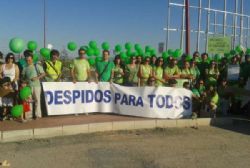 More than 100 supply teachers, Interinos in Spanish, staged a protest against education cuts outside Corvera Airport on Wednesday, 12th June 2013 according to Asociación de Interinos Docentes de la Región de Murcia (AIDMUR).
Angry at the huge loss of jobs, decline in teaching standards and reduced resources available in the classroom, the protest was directed towards the leadership of the Region of Murcia and their apparent waste of public money and poor decision making in an airport which doesn't have any planes.
Exactly one year ago, a similar protest was staged outside Corvera Airport over the same issues which the regional government have failed to address in a way which suits everyone concerned.
Interinos in the region of Murcia are particulary angry at changes to the procedures which dictate how and when interinos are employed.
The education system for employing interinos is extremely complicated and requires a huge investment of time, study and money by individuals seeking employment within state education.
Currently, unless a teacher is particularly gifted, wannabe teachers first have to endure the course of supply teaching until a permanent position becomes available and their name is next on the list for permanent employment.
Teachers are often interinos for many years, since appropriate permanent positions are few and far between. Additionally, not all interinos are seeking permanent roles, meaning that supply teachers who wish to be permanently employed are placed further down the list behind interinos who are not seeking permanent employment but have more teaching experience.
To add insult to injury, state employment for professional roles requires candidates to sit an entrance exam, which interinos must sit every 2 years.
However, those who have many years teaching experience in supply teaching often simply turn up to the exam to sign their name as their experience awards them enough credits to continue as an interino ahead of others who sit the exam.
Before the economic crisis set in, interinos were usually called in to cover permanent teachers on the first day of sickness or leave, however new rules mean schools have to wait at least 2 weeks before calling in supply teachers.
AIDMUR said the outpouring of support received by fellow teachers was appreciated and which "makes us proud as we want to develop our collective vocation for teaching."
Regional Ministers for education are trying to negotiate with unions on a deal which will satisfy everyone involved, however with all the austerity and cuts in public finances, reaching any kind of settlement will be difficult.