Earthquakes Shake Alicante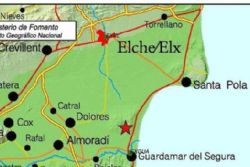 Alicante has been rocked by two earthquakes which struck the province on Thursday and prompted a serious of calls to emergency services.
According to the National Geographic Institute, the first quake struck at 05:18 AM with the epicentre in Benejúzar and measured 2.7 on the richter scale at a depth of 4km. The epicentre of the second was recorded to be in Guardamar del Segura, which struck at 15:24 and measured 3.2 on the richter scale.
Both quakes were felt on the surface, however emergency services said they had not received any reports of serious injury or damage.
Spain is particularly prone to earthquakes and minor tremors as it sits close to the major fault line where the European and North African plates meet.
Most quakes go unfelt on the surface and those that are felt are usually minor in magnitude and result in very minor structural and cosmetic damage.
Spain was struck hard in 2011 by double earthquakes in Lorca, Murcia which killed 9 people, seriously injured hundreds more and caused millions of euros worth of damaged.
Lorca is still recovering from the double tragedy. Many buildings are yet to be rebuilt and thousands or residents are displaced from their homes damaged in the quakes.
Travellers to Spain need not be overly concerned about earthquakes, however they are advised to be prepared to feel minor quakes from time to time, particularly along the south and south eastern regions.
Recommended Reading
• Huge Earthquakes Strike Spain
• Lorca Earthquakes a Year Later
• Lorca Struck Again by Earthquake