Alicante Launches Cuisine Tapas Video Promoting Tardeo in Spain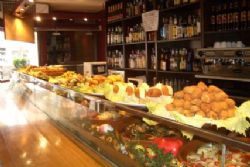 Alicante's Tourism office has launched a video to promote a Spanish cuisine and Tapas phenomenon known as Tardeo.
Tardeo is the leisure activity of spending the afternoons and evenings sampling various traditional and modern tapas from a variety of bars, markets and outlets ending in a night of open air entertainment amongst friends.
The phenomenon originates from Alicante and has been a part of the culture there for several years, which the tourism office hopes it can promote into a famous activity to enjoy in the city.
The video was filmed in May and features the group Gimnástica who are seen enjoying the many food offerings available in the Central Market area.
Spain has a deep rooted culture of tapas and excellent cuisine which is internationally renowned, where as the word 'Tapas' is recognised and understood by almost everyone the world over.