Valcárcel Criticises Sacyr Over Corvera Airport Saga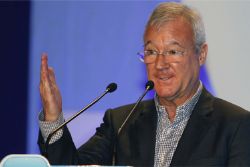 Murcia Regional President Ramón Luis Valcárcel as openly criticised Sacyr for the ongoing problems at Corvera Airport Murcia.
Speaking at the general assembly of CROEM, his closing speech expressed disappointment and frustration at Sacyr's inability to open the new.
Referring to Sacyr's refusal to implement the project on the basis it is not profitable today, "I understand that companies are here to make money, but you can't back a business to win and when they lose say 'do not count me out'. And I'm talking about Sacyr" he said.
"This government will not look the other way" and declared "the government knows what to do and this region is not going to run out of the airport".
Both Murcia and Spain's objectives are to back innovation and entrepreneurial spirit, which they believe is the best chance of lifting the country out of recession and back to the good times. Elements the airport is currently failing to provide.
AENA have already stepped up to the breach and are ready to take full control of Corvera Airport which is expected to complete by December 2013.