Questions asked over Castellon Airport Firetrucks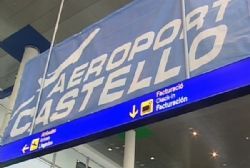 Monica Oltra, the Deputy Spokesperson for the Compromis party at the regional parliament of Valencia has asked the Government further questions of the future operation of Castellon Airport.
Oltra - a long standing critic of the project - specifically asked the Ministry of Economy to inform the assembly the exact number of Fire Trucks to be provided at the Airport.
Whilst the assembly were aware that the cost of the said trucks already purchased was "554 Euros each", Otra demanded to know the exact number currently on site at the airport, together with the exact number required in order to comply with aviation safety standards.
Oltra also asked where these exisiting trucks were, and details of how they were financed, together with assurances that they were still in an operational condition.
Read further Castellon Airport news by clicking the link >> HERE <<.