Paramount Murcia Investor files for Bankruptcy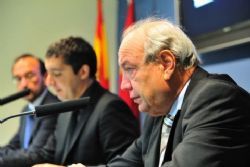 The 'Las Torres de Nuevo Condominia' project, headed by Jesus Samper amongst others, has filed for Bankruptcy.
Jesus Samper, the President of Premursa - the Developer and Promoter behind the Paramount Murcia theme park project, is also the President of one of the Investment companies behind the €50 Million development.
'Golf Towers' had been marketed as a development of over 200 homes at its inception in 2005, but only a fraction of these were sold before the property crash took its toll in 2008.
Following yesterday's news, Jesus Samper declined to make any comment to journalists, instead suggesting that they speak with Santa Ana Alicante - the co-investors who had assumed responsibility for the promotion of the development.