Rajoy calls on ECB to create bank lending scheme for SMEs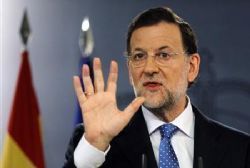 Mariano Rajoy today called on the ECB to create a cheap funding scheme for small businesses, mirroring those used by authorities outside the euro zone to try and get credit flowing via banks.
The Spanish PM, who has previously urged the ECB to change its collateral rules to help smaller companies access financing at better conditions, said the ECB could emulate plans such as a Bank of England scheme.
The British central bank launched a 'Funding for Lending' scheme in mid-2012 aimed at encouraging banks to give credit by providing them with cheap financing.
"I would like the ECB to act like other central banks, to do as the Bank of England has done - giving cheap loans to financial entities so that these financial entities can lend at cheaper rates to small and medium-sized companies," Rajoy said at an event in Tarragona, northern Spain.
Small companies in southern Europe are having to pay higher rates for financing than those in other EU countries, a problem exacerbated by a prolonged recession in Spain.
The country's banks have also been crippled by the end of a property boom that saddled them with soured assets, forcing them to take big losses on these deals.
As credit dried up, a record number of Spanish companies went bust in the first quarter of 2013.
Rajoy said Spain was also trying to kickstart more funding schemes that did not involve banks, including by opening up bond markets to companies currently too small to access them. "We want lots of small and medium-sized companies to group together and be able to issue a bond," Rajoy said.
Banks should also look to issue more bonds secured against SME loans, he said.
Spain has also looked for help in financing SMEs outside the ECB, and Germany agreed in June to grant small Spanish companies €1 billion in aid.
Other European countries, including the UK, have struggled to get credit flowing to small companies after suffering recessions in the wake of the 2008 financial crisis.
Britain's Funding for Lending scheme has also drawn criticism at home for not pumping enough credit into the economy.
UK banks have drawn £16.5 billion of cheap funds since August 2012, the Bank of England said in June, but net lending in the period has still fallen by nearly £1.8 billion.