12 Months since "Castellon Airport open this year" promise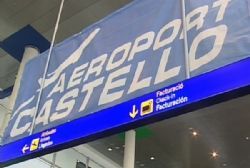 Following on from the previous news story concerning the passing of 12 Months since the announcement that 'Corvera Airport will be operational by October 2012', it can only be described as a sad irony and bitter coincidence that the (almost) exact set of circumstances exists up the road at Castellon Airport.
Perhaps nothing more than an arrogant display of competitiveness and regional pride, but on the 13th of June 2012 the (then) President of Aerocas - the concession holder of Castellon Airport - announced that the facility would be operational before the end of the year.
Fabra also offered further details, noting how he was in negotiations with a company who would bring "1'000 Aircraft per year" to the Airport.
A notable quote from the press conference given by Fabra at the time noted that "only the useless and incompetent are the ones who are against an infrastructure that is absolutely crucial to the development of the province".
In the 12 Months since the statement Fabra has resigned and been replaced in his role by the Deputy President for the Generalitat Valenciana, Jose Ciscar, and the Director of the Airport, Juan Garcia Salas, has been relieved of his position.
Again, with striking parallels with Corvera, Castellon Airport remains unopened and with no date in sight when operations might commence.
Recommended Reading
• Castellon Airport Director Sacked
• Castellon Airport "Operational this year" : Fabra
•
Castellon Airport News : Timeline