Spain's banks strong enough to weather fresh provisions, says central bank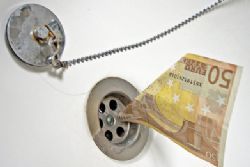 Clean-up efforts have given Spain's banking system the resilience to cope with any new provisioning needs it may face this year and next, Central Bank Governor Luis Maria Linde said on Thursday.
Spain last year requested lenders set aside more than €80 billion in provisions to cover hefty losses from real estate investments made during a decade-long property boom that crashed in 2008.
Thanks to that capital cushion as well as a "massive drop" in property-related risks, "our banking system has the capacity to cope with provisioning needs that could arise in 2013 and also in 2014," Linde said.
The banks - many of which were forced to seek public funds - are currently reviewing their €208-billion refinanced loans portfolios.
Economy Minister Luis de Guindos said earlier this week that could lead to new provisioning needs of around €10 billion.
The review, due to be completed by September, comes as Spain faces a renewed credit crunch fuelled by the lack of confidence in the capacity of highly indebted companies and households to repay their debts in a contracting economy.
In its annual assessment of the Spanish economy released on Wednesday, the IMF also warned of the risks hanging on Spain's banking sector.
The IMF urged the central bank to increase vigilance and the lenders to boost the quality and quantity of their capital as non-performing loans would likely increase in coming months.
Echoing this view, Linde said Spain was on the right track to return to economic growth, perhaps as soon as in the third quarter, but there was "no better way to normalise credit conditions than completing the (cleanup) task."
Spain has so far used €42 billion of a euro zone credit line to bolster its banks, and the question arose earlier this month of whether Madrid might need more European funds to cover banks' potential losses on their refinanced loans portfolios.
Linde, who on previous occasions left the door open to that option, seemed to close it on Thursday.