Spain arrests 8 Al-Qaeda suspects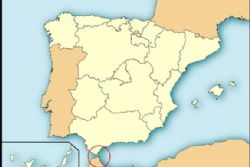 Spanish security forces have arrested 8 al-Qaeda suspects in Ceuta, accused of recruiting terrorists to fight in Syria.A statement from the Ministry of the Interior said how police intelligence services and the Spanish Civil Guard launched operations against the group early on Friday morning.
"We have broken up a network responsible for sending combatants to al-Qaeda linked terrorist groups operating in Syria," the statement read.
Security forces reportedly confirmed that several "jihadists" were waiting to travel from Spain to Syria and dozens of people had already been sent from the enclave and other parts of Morocco by the ring.
"This network, based in Ceuta and [Moroccan city of] Fnideq, carried out fundraising, indoctrination, and organising and financing travel, in contact with other terrorists and following the guidelines of the al-Qaeda terrorist organisation," the statement said.
Spain's police had been investigating the network since 2009, and the Civil Guard since 2011, before they joined forces early this year.
The 8 suspects face charges of "belonging to a terrorist organisation," the ministry said, adding that a National Court judge supervising the investigation had issued search warrants that were being executed on Friday.