Spain reform to save public sector €6.5 bln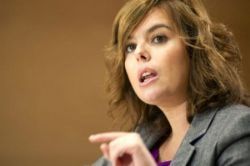 Spain will save billions of euros with an overhaul of bureaucracy that will eliminate duplicate levels of government and promote greater efficiency, Deputy PM Soraya Saenz de Santamaria said on Friday.
"This reform, once implemented, from now to 2015 ... will save €6.5 billion for public departments and €16.3 billion for citizens," Saenz de Santamaria told a news conference. Earlier the deputy PM had said the savings from the reforms would be €37.7 billion. But she later explained that was a total impact, including other cost-saving measures already taken since 2012, such as cuts in public sector jobs.
The reform proposal affects all levels of government and aims to unify overlapping services wherever possible in a country where power is highly devolved to regional governments and many administrative tasks can only be carried out in person.
Some 57 public entities, such as multiple weather agencies, would be shut down or merged, the minister said.
Savings for individuals and companies will come in the shape of, for example, the digitalisation of public administration processes and lower stamp duties for electronic services versus higher fees charged now for in-person paper processes.
It was not immediately clear to what extent Spain's 17 regional governments would implement the proposed reform, which has not been passed into law.
The EU has pushed Spain to reform its public sector even though public spending is below the EU average as a percentage of the economy. The drive is aimed at making the economy more competitive.
The measures, especially shutting down public companies seen as inefficient money-wasters, are also seen as popular with voters.
Around 17% of Spain's workforce is in the public sector, lower than the average in the OECD organisation of wealthy nations, and spending on public sector salaries is in line with EU and OECD averages.