Corvera Airport Moves to Court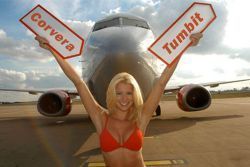 The concession holder of Corvera Airport - Aeromur - has launched an appeal with the Supreme Court over the decision of the regional government of Murcia denying the renegotiation of their loan guarantee for the development of the Airport.
The Regional Ministry of Public Works now has a period of 20 days to refer the case to the High Court, before Aeromur, led by main shareholder Sacyr, finalise proceeedings to move forward with the administrative process.
Aeromur were denied the opportunity to have their contract "financially rebalanced" earlier this year, which led to their filing of a petition to the Supreme Court against the Ministry's demand for a further guarantee of €197 million.
Recommended Reading
• Minister Confirms Corvera Airport to be Open by October
• New arrival at San Javier - But what about Corvera?
•
Murcia Gov't falls out of love with Corvera Airport
•
San Javier v Corvera : Confusion Continues
•
AENA report on Corvera Airport viability slammed