Report Reveals Commissions Charged by Banks in Spain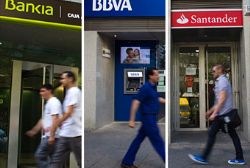 Spain's FACUA consumers association has measured the amount paid to banks in commission fees by account holders each year. The study found that a typical user pays on average €145.82 per year in commission fees on their account.
The user profile used in the study is of a consumer who pays 6 bills by direct debit, carries out 7 payments with a debit card and at least 1 with credit card every month and makes 2 transfers, pays in 2 cheques and pays another 2 standing orders every year.
The banks that charge the most out of those in the study are Barclays (€200.40), Santander (€177.40) and Unicaja (€176.20).
The association carried out the study after a comparative investigation was made by its federation in Andalusia about commission fees that 12 banks apply to current accounts and savings accounts for maintenance, administration, paying in cheques, transfers and being overdrawn.
The study refers to accounts where users are not obliged to state their salary or pension or to contract other bank services, conditions under which some banks eliminate a good part of their commission fees.
Banks were rated as the s2nd most criticised sector in 2012 by FACUA´s consumers, primarily motivated for the application of abusive commission fees.
Only one of the banks surveyed did not apply commission fees to current accounts for maintenance, administration, paying in cheques and transfers, and that was ING Direct.
Double commission fees for being overdrawn
If the user becomes overdrawn, by a few Euros, or even cents, the bank will charge an average of €13.50. The highest minimum amount charged for being overdrawn was applied by Santander and Barclays, €18 Euros. Banco Popular charged a minimum of €6.00 for an overdrawn account but only after it had gone past €60 of debt.
If the bank also demands the payment of the overdraft, they will notify the consumer of the debt in writing, they will charge an average of €33.91. Banesto charges the most, €39.
In the next few days FACUA will present various complaints about the banking sector to the consumer authorities in the autonomous communities as it considers these excessive commission fees to violate consumer protection laws.
Maintenance and administration
Of the 12 banks analysed, the average annual charge for maintenance was €47, Barclays being the highest, which reached €72, followed by the €60 that Sabadell, Unicaja, Banesto, Banco Popular and Santander charge.
Two of the twelve banks do not charge commission fees for maintenance, ING Direct and Activobank.
All of the banks - except ING Direct - charge commission fees in the name of administration, which is applied as a fixed quantity for each note made on the account (Sabadell does not charge for the 5 five and Unicaja does not apply it for paying in cheques). Therefore every time that a payment is made by card, a direct debit is created, paying in a cheque… the bank charges the user an amount.
Of the 11 banks that make the information available on their website (Bankinter does not), an average of €0.52 is applied for this service. The most expensive commission for notes is €0.60 and is charged by Activobank, Barclays, Unicaja, Sabadell, La Caixa, Bankia and Santander.
Transfers
The average amount charged on manually issued transfers to another bank or city made through an account is a minimum of €3.41 or 0.32% if it goes above this amount.
Banco Sabadell is the organisation with the highest fees for transfers, a minimum of €8 or 0.60% if it goes over this amount.
Paying in cheques
Paying in cheques from another bank or city carries an average commission fee of €2.48 as a minimum or 0.30% if it goes above this figure.
Paying them in is most expensive in Barclays, which charges a minimum of €4 or 0.45% if it´s higher. For cheques of a larger amount, the highest commission fee is charged by Bankia, 0.75% of the amount (with a minimum of €3.10).
ING Direct is situated on the opposite side, as they do not charge for this service.
FACUA warns that some banks, such as Santander, apply a different commission depending on whether the cheque is paid in in the same place (same city) or not. In 2005 The Bank of Spain pointed out that "in principle there is no technical reason or cost that supports a differentiation in commissions of that nature", for which reason it has indicated to banks that "they should try to abolish them".
Cheques that bounce carry an average commission of €13.75 as a minimum or 4% of the amount if it goes above this amount.
The highest minimum amount reached €18 Euros was charged by La Caixa, Unicaja and Santander.
Account deposits
FACUA is receiving complaints from numerous users in reference to commission charges for paying in cash to the account of a 3rd party at the cash desk.
Of the information that FACUA has been able to obtain, La Caixa charges €2.00 for this service and both Sabadell and Popular charge a commission fee of €1.50 if it is paid into a company´s account.
The association regrets that this practice is tolerated, as it is abusive in every way and even criticised by the Bank of Spain in its 2010 and 2001 annual reports, where it stated that "accepting cash payments as credit in the receiving bank itself constitutes a service of the cash desk, an inherent part of the account contract and, therefore, cannot be remunerated in an independent way. Or rather, given that cash desk services, on this assumption, are repaid through the maintenance commission fee, the deduction of any other commission is considered inappropriate".
The second most criticised sector
In 2012 banks were situated as the 2nd most criticised sector by FACUA´s consumers, as indicated in the annual evaluation, "What do consumers criticise?"
Complaints about banks in the association doubled in 2012 compared to 2011, coming together in 16.5% (in 2011 it was 7.8%). In this sector the criticisms that stand out are for irregular commission fees and the application of abusive clauses in personal loans or mortgages.
Surveyed organisations
FACUA has carried out the study taking as a reference the maximum tariffs published by the banks on their own websites, between January and February of 2013, without contracting any related service or complying with any requirement such as defining the salary or pension. The banks surveyed were Activobank, Banest, Bankinter, Bankia, Barclays, BBVA, ING Direct, Unicaja, Sabdell, Popular, La Caixa (CaixaBank) and Santander.
Recommended Reading :
FACUA : Users pay up to 200 Euros yearly in bank commission fees .