Spain's Tourism Industry Changes in Face of Recession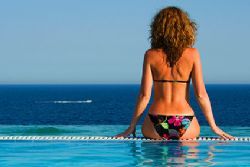 A report by Tripadvisor has revealed the extent to which the global recession has hit Spain's tourism Industry – in particular, Spaniards and their holidaying habits at home.
The study showed how more and more Spaniards are turning their backs on costly coastal hotels in favour of a cheaper summer rental in more affordable destinations. Out are regions of Catalonia and Baleares, in exchange for the likes of Navarra and Castilla y Leon.
The study was based on a survey of more than 50'000 Spanish Holiday homes advertised on the web and noted the disparity between prices of similar properties in different areas : A studio apartment, for example, being available for €364 per week in Navarra, with an almost identical apartment costing €817 for the same week in Mallorca.
Despite the rising trend for private rentals, Hotels are doing all they can to compete. On average, the cost of Hotel accommodation is down when compared to the same month in 2012, however there is still a large occurrence of regional disparity. Whilst the region of Cantabria has seen the average bill slashed by 20%, the Balearics have seen prices increase by around 2%.
Travel website Trivago notes that the most affordable average room-night were found in the regions of Cantabria, standing at €70, Asturias at €64, and Aragon and Galicia at €66.
As far as the coastal areas are concerned, the cheapest Holiday packages were found in Benidorm, Salou, Peniscola and Cambrils, which were offering deals to compete with 'newer' destinations in Eastern Europe.
Eroski's Travel Service reports that Budget Breaks are also to be found in Mallorca for €115pp for 5 nights, flight included. Hotel stay+flights.