Gibraltar Considers UK Naval Reinforcement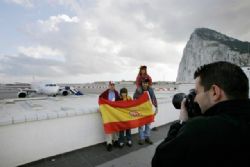 Following a spate of recent clashes between Spanish and Gibraltarian authorities, the Gibraltar Parliament has united as a show of strength and condemned Spain over an alleged Jet Ski shooting incident and considers UK Naval reinforcements according to local reports.
The incident occurred earlier this week where a Gibraltar resident using his Jet Ski in the territorial waters around the disputed enclave, was fired upon by Guardia Civil officers.
Spanish authorities were quick to deny the incident, despite Guardia Civil sources confirming otherwise and insist rubber bullets were used.
The UK Minister for Europe, David Lidington, immediately summoned his Spanish counterpart to explain the incident, whilst UK Prime Minister David Cameron reaffirmed his "staunch support" for the British Sovereignty of British Gibraltar Territorial Waters.
The motion passed in the Gibraltar Parliament gives praise to local authorities in Gibraltar for the hard work they perform in difficult circumstances and calls upon David Cameron to continue his support of Gibraltar with firm and decisive diplomatic action at the highest levels and, if necessary, reinforcement of the naval presence in Gibraltar.
Gibraltar intends to send a firm message to Spain that it will no longer tolerate incursions by Spanish Naval Forces into its territorial waters, which the Jet Ski shooting incident has only served to provoke this reaction.
Earlier this year, Spanish fishermen entered the territorial waters to fish around the enclave who were initially turned away by Naval Police.
However, following the incident, Spain sent Guardia Civil Naval forces to protect the fishermen resulting in clashes between Gibraltar Police and the Guardia Civil and a deep political spat between Spain and the UK ensued.