Spain Current Account in the Red Sparks Growth Fears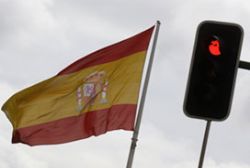 Current account figures for Spain have revealed the country's current account went into the red in April according to data released by the Bank of Spain sparking fears over its growth prospects for 2013.
The figures showed a 340 million euro deficit in April 2013 after a surplus of 1.5 BILLION Euros in March 2013 which has cast fresh doubt on Spanish PM Mariano Rajoy's ability to drag Europe's fourth largest economy out of recession.
Rajoy's policy has been to concentrate solely on exports and austerity to rescue Spain from its worst recession in history, ignoring advice from other leaders, economists and critics worldwide who collectively agree investment in entrepreneurs and small business start-ups are the key to recovery.
Whilst Spanish exports are strong, unemployment continues to rise and the drain on the social security system has exasperated the problem further.
Likewise, Spanish bonds remain relatively high at 4.76 percent compared to the same 10 year bond for Germany which stands at 3.05 percent.
Although high, Spanish borrowing costs are considerably lower than the all time highs of 7.75 percent reached in July 2012 before the European Central Bank stepped in and pledged to back stop bonds which drove the market prices down almost immediately.
The Bank of Spain data also revealed foreign portfolio outflows slowed in April with withdrawals of 6.53 billion Euros of stock and investments, whereas in March figures stood at 11.9 billion Euros which was the highest since 2012 when Spain's banking sector was bailed out with loans from Europe.