La Tomatina Bunol Becomes a Ticket Only Event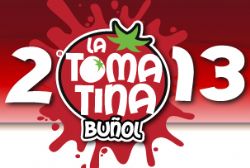 The annual tomato fight "La Tomatina" held in the small Valencian town of Buñol will be a ticket only event from this year on.
La Tomatina involves trucks loaded with squidgy tomatoes driving through the main streets of Buñol spilling their load for participants to throw at each other resulting in tomato stained individuals and buildings along with rivers of tomato juice flowing down the streets.
Initially billed as a quirky local fiesta, the event as gained international acclaim attracting tourists from all over the world, intent on joining in the festivities and throwing a tomato or two at friends and family in the name of fun.
However, visitor number to the event peaked at 45,000 in 2012 which prompted town hall officials to restrict the number of participants by charging for tickets citing fears over safety.
As such, the area for the event has been increased and only 20,000 tickets will be issued at €10 a pop with 15,000 openly available to the general public and 5,000 reserved for locals.
Assuming all tickets are sold and everyone pays €10 for a ticket, the event would yield €200,000 into town hall coffers as hard-up local authorities seek innovative ways to raise cash.
Tickets bought will be exchanged for a wristband on the day and ticketless visitors are likely to be turned away. However, concerns have been raised over the need to provide identity when exchanging for the wristband.
Since the only form of valid identity a tourist may have is a passport, critics are warning of the dangers involved with taking a passport to such a crowded event.
Individuals wishing to obtain tickets can buy them online from the official website by clicking here .
Tumbit recommends participants take eye goggles or some form of safety glasses, along with a change of clothes and a towel. Individuals using a passport as identity should also be aware of their personal security at all times and take a sealable, waterproof plastic bag for their documents!
Recommended Reading
• Tomatina 2013 Attendance Limited and Chargeable
• Valencia Forces Buñol to charge Tomatina Entry Fee
• 2010 Tomatina Attracts Around 40000