Bank of Spain urges Spanish lenders to curb cash dividends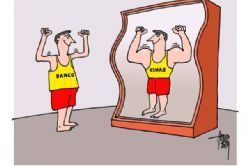 The Bank of Spain on Thursday urged Spanish lenders to limit 2013 cash dividends to the equivalent of 25% of annual profit in a move that may force the country's 2 largest banks to revise policies.
A central bank spokesman said the recommendation did not apply to scrip dividends, but lenders were asked to take into account the evolution of results and make reasonable adjustments to dividends paid in shares.
In a letter sent to all Spanish lenders, the central bank said they should limit dividends to maintain high levels of capital in an uncertain economic environment.
Last week, in its annual review of the Spanish economy, the IMF had already called on Spanish lenders to reinforce the quantity and quality of their capital by being very prudent on cash dividends while cleaning up loan books and quickly selling distressed assets.
The new guidelines will have no impact on most of the banking sector as most lenders stopped paying dividends when Spain sought a €42-billion bailout for its banks, brought low by the bursting of a decade-long property bubble.
However, Spain's 2 biggest banks, Santander and BBVA, last year maintained high levels of cash payouts despite taking a massive hit on profit after booking billions of euros in provisions to cover potential losses on real estate investments.
BBVA's cash dividend was worth about 80% of annual profit in 2012, up from about 30% in 2011.
Santander's cash dividend was worth about 50% of annual profit in 2012, also up from 20% in 2011.
A spokesman for BBVA said it was too early to know if the recommendation would impact the bank's dividend policy and it would have more visibility as the year progresses.
BBVA's next cash payment to shareholders is planned to take place in January 2014. Santander declined to comment.
Popular, Sabadell, Caixabank and Bankia have not made any dividend payment so far in 2013.
While Bankia has a ban on dividend payments until 2014 under its EU-agreed restructuring plan, Popular has said it would look at restarting dividend payments in 2013.
Caixabank and Sabadell said they are likely to maintain the same level of payouts to shareholders as in 2012, with the option to choose between cash or shares.
The Bank of Italy issued a recommendation in Q1, saying banks that had posted a loss or had a low capital base should not distribute dividends.
As a result, Italian regional lender Banca Carige had to withdraw its dividend plan.
In addition, the European Commission limits dividend payments of bailed-out banks in Europe. In Ireland all lenders suspended dividends at the start of the crisis and have not stated plans to resume them.