Badajoz Airport Resumes Flights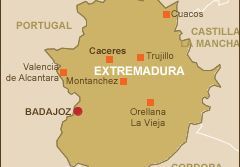 Badajoz Airport (Extremadura) resumed passenger flights yesterday to coincide with the start of the Summer Holiday season.
The Airport had previously ended passenger flights in January 2012 after figures between January - November 2011 had fallen to just 52'000.
The Facility, which was opened in 1990 and, like Murcia's San Javier Airport shares it's runway and control tower with a Military base, saw passenger numbers peak in 2007 with the arrival of 75'000 passengers.
Flights for 2013 will run once per day Sunday to Friday betweeb Madrid-Barajas and Barcelona-El Prat, and be operated by Air Europa.
With each of the two Aircraft flying (and returning) just once per day, and each with just 68 seats, this assumes a Maximum 272 passenger activities if operating at 100% capacity. Surely, the Security; Baggage Handling; Parking; Cleaning and Check in Staff required by such facilities means that yet another Spanish Airport is settting itself up for failure and closure no sooner than the wheels are up on the first aircraft ?