Spain's Telefonica in fiber optic deal with Vodafone and Orange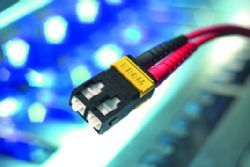 Spain's biggest telecoms company Telefonica signed an agreement with rivals Vodafone and Orange on Tuesday, granting them access to its fiber optic network to roll out faster broadband for customers.
Vodafone and Orange will make a one-off payments on individual installations to share them for no less than 20 years and Spain's telecoms regulator CMT will set prices, the 3 companies said in a statement. They gave no further details of the payments.
The agreement is reciprocal for the three firms, though as Telefonica's fiber network currently reaches over 2 million homes the deal is more attractive immediately for Vodafone and Orange.
Telefonica said in return, when these companies roll out their own networks where Telefonica does not have coverage, it will ask to share them.
Vodafone and Orange, which in April had asked the CMT to intervene in talks with Telefonica over fiber optic connections into individual homes, teamed up earlier this year to build a fiber optic network offering fast broadband speeds.
Both companies plan to invest up to €1 billion in their joint network that will bring fiber optic to 6 million homes.
In recession-hit Spain, where 27% of the workforce is unemployed, telecoms operators face tough competition as they slash prices and try to hold on to customers.
In this cut-throat environment, so-called quad play packages - combining fixed line, mobile, internet and television services - have become popular, though competitors cannot match Telefonica's across-the-board offerings or its fiber footprint.